A Peter Rabbit themed garden was created in the Redcar Cemetery after the Precious Garden, an area dedicated to children's burial, exhausted its spaces. The garden was created at the initiative of the Friends of Redcar Cemetery Group, in partnership with the Council.
The Redcar Cemetery, opened in 1874, is one of the busiest cemeteries in the borough and the Friends Group was formed in 2004 to make sure it is a welcoming place where residents can come and pay their respects to their loved ones. The group does regular work in the cemetery, undertaking planting, weeding, sweeping, cleaning, litter picking and memorial restoration as well as special projects to improve or expand different areas of the place.
Such was the creation of the Peter Rabbit Garden. This is the second incarnation of a special area within Redcar Cemetery, the first being the Peter Pan path also dedicated to the sad loss of children and younger people. The project aims for families to walk away from their departed loved one feeling that the space they are buried in is designed in a loving way conveying a feeling of safety.
Image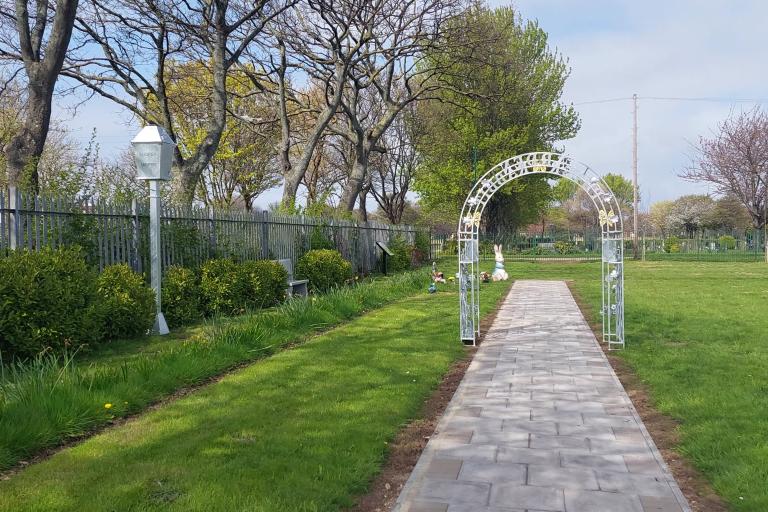 Three figures of Peter Rabbit, Jemima Puddle Duck and Mrs Tiggy Winkle were made and installed by Billy Cessford, from Warrenby. A stunning ornamental arch was fashioned by Martin Dobson from Steel River Fabrication Company who also donated extra rabbit features and made two unique lamps to the path.
Image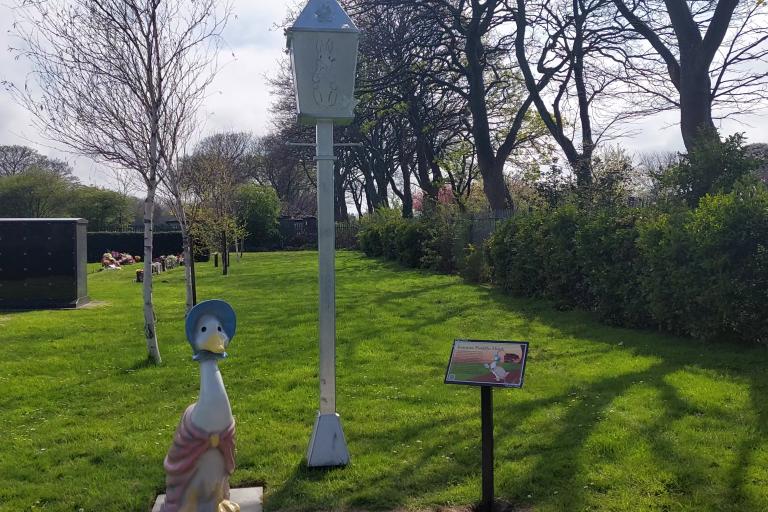 Some of the materials for the arch were donated by SM Thompson. The seats, which have figures etched onto them, were provided by Rose Memorials of Linthrope while Graphic Solutions created the story boards. Managers and workers alike from Sembcorp have also contributed with a seat and lamp to complement the existing collection.
The funding came from several sources, 'Impetus Environmental Trust', 'Teesside Charity', local businesses such as 'Scott Street Fisheries' and 'The Braid Queen of Redcar' and many local people, some of them having children buried in the cemetery.
This heart-warming project has received the Mayor's Achievement Award and the RCVDA Community Award.
Ged Fleming, Chairman of the Friends of Redcar Cemetery said: "Both myself and Dot Ahmed, the person who has worked with me side by side on our projects, are very proud of what we have achieved with the help of over forty volunteers culminating in what we feel is a unique area in the cemetery, the Peter Rabbit Garden.

"This was brought about by local businesses, groups, major funding bodies, the Local Authority, volunteers and individuals coming together to make this a reality. Our volunteers have become personal friends over the years and we can boast having three founder members."
Andrew Pearson, Income and Funding Officer at Redcar and Cleveland Borough Council, said: "The Peter Rabbit path is the latest in a series of projects I have been able to support the Friends of Redcar Cemetery with. It was Paul Jarvis that started the force to build the first path with a shift from Sabic five years ago.

"The Friends of Redcar Cemetery are passionate about their work. There is no better demonstration of the group's outstanding commitment and love than the Peter Rabbit Garden. We are very lucky to have groups such as this working with us. It is within that joint working mutually supportive dynamic that special things are made possible."