Children helped plant the first trees on Wednesday, 15 March, to create a community orchard named Pippin Community Orchard, which will eventually have 400 fruit trees, as part of an even more ambitious plan to plant 19,000 trees right across the borough.
The schoolchildren and members of the local community planted the trees in the Donkey Field, in the historic Kirkleatham area in Redcar. All the trees were heritage varieties.
The word pippin has a long association with orchards and specifically varieties of apple, named for the spots, or pips that appear on their sides.  Informally, pippin came to mean an excellent person or thing. The aim of the orchard is not only to increase biodiversity, but also to bring communities together and encourage sustainability in the area.
The children, from Kirkleatham Hall School and Green Gates Primary, in Redcar, also took the chance to learn about how important trees are for our environment. Year 4 children from Green Gates Primary will also have the opportunity to attend grafting workshops so they will be able to plant their own trees on the school site or in the orchard.
Image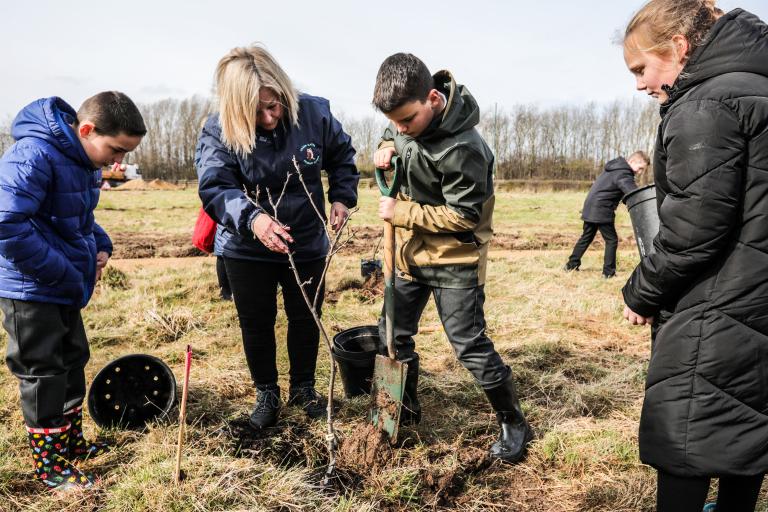 The Council is also aiming to develop an online database with information about each tree from the orchard, which people will be able to access through QR codes to find out more about their heritage.
The Council has been planting 19,000 trees throughout the winter as part of a drive to create a greener borough with the aim of becoming carbon neutral by 2030. The authority also planted 4,000 trees the previous year.
Mixed varieties of native trees, which will help improve biodiversity, have been planted at 24 other sites ranging from 2,000 at Whale Hill tip, 2,000 at Pit Park, Boosbeck and 1,000 at New Marske woods.
Cabinet Member for Climate Change, Environment and Culture, Cllr Louise Westbury, said:
"It's wonderful to see our children so enthusiastically doing their bit by planting trees and learning about why they are so essential for wildlife, pollination and so much more. The Council's commitment to planting trees shows the value we place on the environment – but it will also make our beautiful borough simply an even more lovely place to live."
The orchard will eventually include a tree that will be grafted from a pear tree that was planted by the Kirkleatham Estate gardener in the early 1900s, and still flourishes on the Museum grounds today. All the varieties have been grafted with material from National Fruit Collection in Kent – one of the largest fruit collections in the world which is part of an international programme to protect plant genetic biodiversity.
The scheme is being delivered in partnership with a North East community company called Honest Graft, and the local community. For more information about grafting, please visit their website at www.honestgraft.org.